I wanted to change, but I was not sure which direction with my dining room. I'm an artist, and I am sensitive about my ish. So when the hubby said I like the dining room, but it seems like a little old lady lives in there. I had to step back and think about my thrift store finds and say you know what I settled because we had just moved in and I wanted to fill the space.
I found the most affordable dining table and random chairs and just went with it. Not to mention a lovely hutch that I scored at Habitat for Humanity. Not the mid-century sideboard or buffet I was hoping for, but it was cute. It's the only thing that stayed because I enjoy it. The table and random end chairs had to go, and I sent them back to a thrift store. I also moved my Overstock shell beige chairs back to the breakfast nook. An area I did not have at my last home. I do find myself sitting there occasionally to eat breakfast or when the spirit moves me to make a temporary office.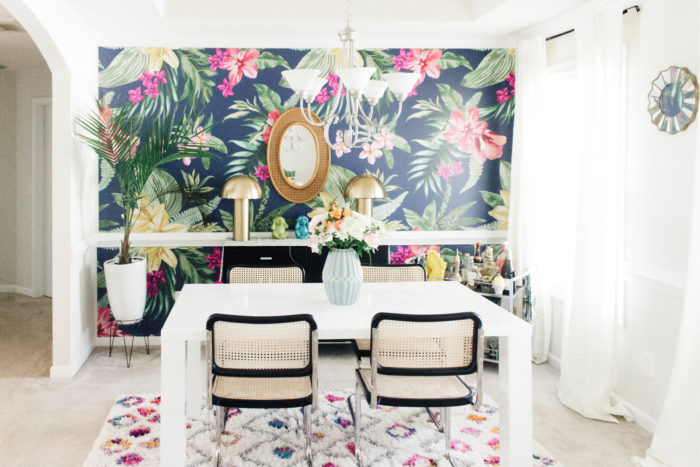 The Table
Now onto my dining room makeover, I started with finding a table and some nice chairs. Let me tell you when you're on a budget buying chairs as a set is the best option. I looked everywhere for a vintage set that I could makeover or love. Nothing. I also had the issue well how I would get it home? Anyways I ended up with just surfing the internet and looking at my Pinterest boards, and I discovered. While I loved clean lines and mid-century vibes I also loved white tables.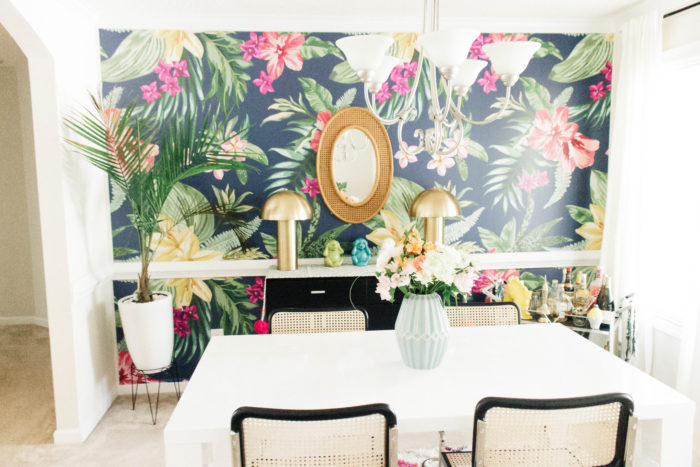 The Chairs
Yes, the white table was an option for me because of no kids or animals to destroy it just yet. So I knew that I could live my best life with a high gloss white table. Then I noticed I pinned a lot of Breuer Cesca Chairs. The original Breuer chairs were designer Marcel Breuer, a Hungarian-American Architect. This Ionic chair is named after his daughter Francesca. Honestly didn't know the iconic chair had a name because I remember an Aunt or someone in the late 80's and early 90's having a set.
The Rug
The rug I already had from my previous dining room, and I know rugs under the dining table. It's a thing not up for debate in my current home, because of the builders grade beige carpet that I can't change right now. Therefore I use a rug and not a low pile rug but one with shag. I can do this because of course no kids and my dogs no better.
Although I am still searching for few pieces like a new buffet table and a light fixture. The Wall Mural is the love of my life right now. I may be over-gramming on the Gram right now, but I can't help it. It's the first room I see when I get home from a two-hour commute. The Wall Mural is from Pixers a company that I am partnering with for this blog post. It only took a couple of hours to install with the help of my sisters and mom. The amount of planning and measuring was so worth the statement this wall makes. The pattern is one of Pixers graphic exotic one piece designs. Here is the direct link to my pattern.