Gallery walls have been in for a while in the design world. I love so many different approaches and Pinterest if full of some good ones. Originally I wanted a chi very minimal modern same frame look. Similar to the IKEA RIBBA frames with artwork with pops of colors in black and white.
Then I went on the journey to find affordable prints on Etsy and Pinterest. None of the prints seem right for my style. One day I was in the Goodwill and saw a vintage oil painting at Goodwill of flowers and I was hooked.
I decided not only would I only do paintings, but it would be a floral gallery wall bouquet. My original desire was to find vintage paintings of landscapes and people, but none of them spoke to my soul. Yes, I'm a little emotional here, but art and my home are important to me. I need to be inspired by beauty and be able to keep looking around.
In the process of sourcing painting I found Goodwill online and some local gems. I also created some original Carla B. pieces because I found a frame, but no art work. When you're collecting vintage items you can't make a list of photo ideas, but keep in mind colors. Here are a few of my top 3 tips for collecting vintage artwork.
Search often
Create templates before hanging (see link)
Frames can be painted and mixed around to fit your needs
Maybe you can guess which ones are my handy work?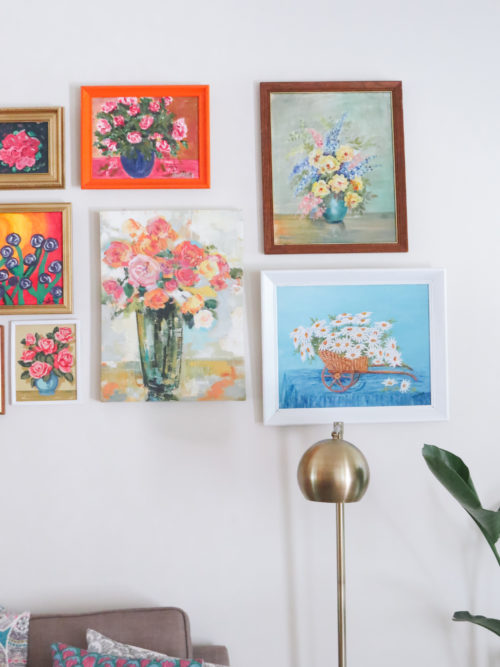 Every day, I notice something different in the paintings and artwork. I can change a throw pillow or a blanket around and I see blue and pinks. In fall I can change out things and pull out the warm oranges, browns and dark greens. I'm not bored with the design and don't think I'll change it anytime soon. I might create more walls of art, but for now my floral gallery wall is the focal point of the main gathering place in my home.